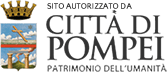 In the province of Naples, on the slopes of Vesuvius, Pompei covers an area of 12 sq km. With around 26,000 inhabitants. It's a modern reality with tourist facilities, hotels, campgrounds, restaurants, pizzerias, bars, pubs and shops. It's a cosmopolitan city, a destination for a significant flow of tourists from Italy and abroad.
Many tourists decide to stay in town not only to visit its attractions, but also as a base for daily excursions. Indeed, by own means or by public transportation, you can easily reach Mt Vesuvius, Herculaneum, Naples, Sorrento, the isles of Capri and Ischia, the Amalfi Coast and Paestum. 
Pompeii rises to the rank of city 9 January 2004. The primary feature that makes it unique in the world, is to enclose under one name two cities.
The Ancient Pompeii
The ancient pagan city got buried under six meters of ash and lapilli following the eruption of Mount Vesuvius in 79 AD. In the sixteenth century it was discovered almost by chance during the construction of an aqueduct. Thanks to innovative excavation techniques, today we can see the positions in which the Pompeians perished during the eruption: the casts of the bodies are an evidence of the tragic catastrophe. Also thanks to the countless findings of frescoes, pottery, ornaments and utensils, today we know a lot more about the habits and customs of the ancient inhabitants of Pompeii.
The Modern Pompeii
The modern city of Pompeii was founded thanks to the work of Blessed Bartolo Longo a lawyer from Puglia. In 1872 he was commissioned by the Countess Marianna De Fusco to administer her properties in the Valley of Pompeii. The appearance of the Virgin pushed Bartolo Longo to build, among many difficulties and with little money, the Sanctuary, developing around it a city. One of the obstacles he found was the reluctance of the neighbour towns to cede a part of their territory in order to found the "New Pompei". Bartolo longo died on October 5, 1926, therefore he was unable to attend the birth of the new municipality that occurred March 29, 1928, through the efforts of Brother Adriano who had the merit to continue, with tenacity, the project started off by the Blessed.
---
Pompeii UNESCO World Heritage site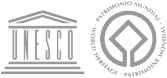 By decree of 1997 Pompeii was enrolled among the sites that are considered World Heritage by UNESCO.
The Committee decided to enter this area on the basis of cultural criteria whereas the extraordinary finds in Pompeii, buried by the eruption of Vesuvius in 79 AD, constitute a complete and living evidence of society and everyday life of the past, which has no equivalent anywhere else in the world.